Technical Faculty
 Mr. Sudheer Dwivedi , Joint Director: -

Brief Profile :
A Mechanical Engineer from Indira Gandhi Government Engineering Collage under Dr. H.S. Gour University Sagar (M.P.). MBA (Project Management), having P.G. Diploma in Environmental Management. Has been trained on Disaster & Emergency Management Systems (DEMS) at Safety Solutions, England, U.K.  Obtained specialized training at IIT, Mumbai &  IICT Hyderabad on Process Safety Management under continued education programme. Also trained on thematic cartography at National Atlas & Thematic Mapping Organisation (NATMO), Calcutta. attended various training programmes & seminars at various reputed organizations on various aspects of Industrial disaster and risk management.
Professional Expertise :
Industrial Health & Safety: Safety Audit, Consequence Analysis, Risk Assessment, Hazard & Operability Study (HAZOP), Failure Mode & Effect Analysis (FMEA), On-Site/ Off-Site Emergency Planning, Environmental Audits etc. Conversant with specialized software viz. SAFETI Micro (DNV Technica U.K), EFFECTS, DAMAGE (TNO Neatherland), HAZOPRO in executing various consultancy projects.
Experience :
Having total experience of about 21 years out of which 4 year in production planning, maintenance, erection / commissioning activities in process / engineering industries and rest 17 years at DMI in coordination & execution of consultancy projects in on Safety Audits, HAZOP, FMEA Studies, Quantitative Risk Assessment, On-Site/Off-Site Emergency Management Plans in various hazardous industries and in providing training to many process engineer, management executives from industries, different level government officials and students of various schools. The selective consultancy experience is as under :
Safety Audits : Conducted many safety audit across the country of various reputed organisations like : NTPC : Ramagundam, A.P., Kawas Gujrat, Jhanor Gandhar, Gujrat, Singrouli, U.P., Simhadri, A.P, Farrakha, West Bengal, Anta, Rajasthan, Faridabad, Auraiya, U.P.,Koraba, Sipat Chhatisgarh, Vindhyachal, M.P. etc. IOCL : Bhopal, Guna and Ujjain, All five units of NALCO located at Orissa and Andhra Pradesh, Units of Indraprastha Power Generation Company, New Delhi, Bokaro Thermal Power Station, Tear Smoke Unit of BSF,
Takenpur, Private Companies : SS Crop, Govindpura, Siel Chemical Complex, Rajpura, Patiyala, Aich Aar Chemicals, Deewangunj, Shree Acids and Chemicals Limited, Gajroula, U.P, Orient Paper mills, Shahdol, Chhatisgarh, SRF Chemicals, Rajasthan, CFCL Limited Rajasthan, Siel Chemicals Limited, Rajpura, Punjab, etc. in repeated years.
HAZOP/FMEA Studies: NTPC-Ramagundam, Korba,Faridabad, HEG Limited, Mandideep, ONGC – Adamtilla, Baskandi, Assam, Ankleshwar,Gujrat, Rajamundari, A.P., Gas Compressor Station of GAIL, Jhabua, SFD and Chemical Division of Grasim Industries, Nagda, High Tech Carbon, Tamil Nadu, Kerla Minerals & Metals Limited, Kerela, Durgapur Steel Plant, W.B. & Different Units of NALCO at Orissa and AP.
Risk Assessment / Onsite Plans : HPCL Refinery Mumbai, GCS Kuthalum of ONGC, Chemical / Staple Fiber Division of Grasim, Nagda, IOCLUjjain, Bhilai Steel Plant, Bhilai, Gwalior Chemicals, Hindustan Zink Limited, Chhitorgarh, Rajasthan, Jindal Steel Works, Bellari, Karnataka, Gas Compressor Station of GAIL, Jhabua, Mauda Super Thermal Power Station, Maharastra, Rapid Risk Assessment of Malanpur, Gwalior and Raipur, Chhatisgarh Industrial Area, Disaster Management plan of Durgapur Steel Plant etc.
Off-Site Plans: Bhopal, Dhenkanal, etc.
Fire Management Plan : Maharajbada Market area of Gwalior
Environmental Audit: Siel Chemical Complex, Rajpura, Punjab in repeated years.
Training :
Imparted specialized training at district and national level to many scientists, engineers, industrial managers, from various private and public sector undertakings, government officers from different departments, teachers and students of various schools and collages etc. on 
Documentation : Various technical reports on consultancy and training material. Also provided technical contribution in preparation of training modules on about 15 themes pertaining to industrial disaster and risk management in support of gtz, Germany.
Dr. George V. Joseph, Joint Director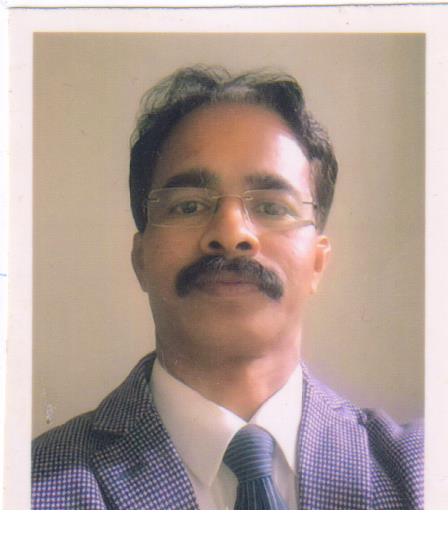 Brief Profile
A Disaster Management Professional with PhD. in Social Work from RDVV- Jabalpur, a Masters from the University of Madras and BA (Hon.) from St. Antony's College-Shillong, North Eastern Hill University. Has over 28 years of experience in the varied fields of disaster management, human resource development, education and community development in various states of India. The PhD work was on "Major Accident Hazardous Industries and the Risk Perceptions of the people".
Over 20 years of exclusive National Level experience in disaster management planning, capacity building, research, advocacy, awareness advisory services. Major projects handled include, disaster management capacity building programme under the Central Sector scheme- ministry of agriculture , Government of India, Institutionalization of incident command system in India, community based disaster risk reduction- a joint project of Government of Madhya Pradesh and Unicef, Disaster Management Capacity Building Programme, Government of Madhya Pradesh, School Safety Programme - Government of Madhya Pradesh, Contingency Planning -Narmada Valley Development Authority, Hospital Safety programme- National Health Mission, NGO capacity building on disaster management programme- World Vision, CASA, Red Cross, Capacity building programmes for financial institutions NABARD, RBI, Preparation of off-site emergency management plans etc. Has also undertaken research projects like mid-term evaluation of Gujarat Earthquake intervention by international NGOs, risk perception studies, community preparedness etc. 
Has experience of working with National University for Educational Planning and Administration (Formally NIEPA) –New Delhi, Allen Bradley India Ltd. (Rockwell Automation), Asian Centre for Organisation Research and Development, CEVA, Caritas India, Don Bosco Social Welfare Society etc. in various capacities, in different parts of country including in the North East India.
Major subject expertise include among others, Psycho-social impact of disasters and their management, Disaster Management Planning, Disaster Research and Documentation, Incident Command System, Community Based Disaster Management, Off-site emergency management planning, Table top exercise and mock drills, child protection in emergencies, Risk Perceptions studies and Risk Communication, Participatory Learning Methods, Result based management, Climate Change and Disaster Risk Reduction, Project management, project monitoring and evaluation, Social Science Research, Hospital Disaster Management Planning, Integration of DRR into development process, NGOs and Disaster Management, Networking and Partnership development for effective disaster management, Corporate Social Responsibility and Disaster Risk Reduction, Training Need Assessment, Training Design, Training Evaluation etc.
Dr. Asit Patra, Deputy Director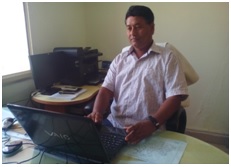 Brief Profile
A. Present Affiliation
Deputy Director (Faculty), Disaster Management Institute, Department of Home, Govt. of Madhya Pradesh, ParyavaranParisar, E-5 Arera Colony, Bhopal – 462016.
B. Nature of Work and Subject Area
Training, Awareness, Advisory/Consultancy and Research on Disaster Management Planning, Dispersion Modelling (3D/2D), Consequence Analysis and Quantitative Risk Assessment (QRA) in industries, Chemical Disaster/Emergency Management plans (On-site and Off-site), HAZOP study, Failure Mode and Effect Analysis (FMEA), Safety Audit etc.in various types of industries/industrial estates/districts etc. across the country.
C. Consultancy Projects (as Principal Investigator and Team Leader)
Completed more than 120……contd.so far
D.  Training Programs/ Workshops etc. Conducted
Specialised/CustomisedTraining programs: For the NDRF battalions/ Corporates (ONGC, GAIL, NTPC, HPCL etc.)/MoEFCC/CPCB/Directorates of Industrial Safety and Health (Govt. of Maharashtra, Karnataka, M. P.) etc. across the country.
National Level Workshops: For Petroleum and Natural Gas Regulatory Board (PNGRB) installations, ENVIScentres, NDMA for National Action Plan on Chemical Disasters etc.
Mockdrils across the country: Hindustan Zinc Ltd. (Rajasthan), Mangalore Chemicals and Fertilisers Ltd. (Karnataka), GAIL (Vijaypur), Indraprasth Gas Ltd. (Delhi), HPCL (Visakhapatnam), Chennai Petroleum Corporation Ltd. IOCL and BPCL LPG Bottling Plants (Bhopal), BHEL plant (Bhopal) etc.
Around 25 programs (including Awaresness) per annum for the various departments of Govt. of M. P., viz., Agriculture, PHED, PWD, Industry, Home, Health, Family Welfare, Animal Husbandry, Technical Education etc. (Funded by Govt. of M. P.).
E. Academic Background
Post-Doctorate Research Fellow and Research Associate at Indian Institute of Technology (IIT) Delhi (1998 -1999)
Ph. D in Atmospheric Physics (Jadavpur University, Kolkata, 1999)
M. Tech in Atmospheric Sc. and Tech. (Applied Physics) (IIT, Kharagpur, 1994)
F. Research Publications
In International / National Journals: 13
In International /National Conferences: 09
G.Thesis Supervision
·At Post Graduate level:07 (Students from IIT Chennai; MANIT Bhopal; CEPT Ahmedabad, Gwalior University).
At Graduate level:05 (Final year Chemical Engineering students of MANIT Bhopal).
H. Specialised Training Received
I. On Disaster Management
University of Hull, U. K. and Safety Solutions Ltd., London (2003) (01 Month)
II. On Risk Based Chemical Process Safety Management
Indian Institute of Technology (IIT), Mumbai (2001) (01 week)
Indian Institute of Chemical Technology (IICT), Hyderabad (2001) (01 week)
III. OnSoft Computing Techniques in Computational Fluid Dynamics (CFD)
MANIT Bhopal (2012) (01 week)
IV. On Detection, Prevention and Response to Radiological Threats by Bhabha Atomic Research Centre, Mumbai (2014) (01 week).
V. On Direct Trainers Skills (DTS) and Training Methodology
Direct Trainers Skills, DoPT, Govt. of India (2012) (01 week)
National Institute of Technical Teachers Training Institute, Govt. of India, Bhopal (2001)(01 week)
I. Awards/Fellowships/Accolades etc.
V. Bhavanarayana Award from India Meteorological Department, New Delhi (1996) for the best research paper.
Young Scientist from Deptt. of Science & Technology, Govt. of India (2003) and Granting of Research Fellowship for three years (2003 – 2006).
Expert Nominated by the CPCB, Delhi for Analysis of Risk in Common Treatment, Storage and Disposal Facility at Bahrauch, Gujarat (2008).
Core Memberin the National Level Technical Team formed by the National Disaster Management Authority (NDMA), New Delhi for preparation of National Action Plan on Chemical Disaster Management (2009).
J. Technical Competency/Know-how
CFD modelling (3D/2D): ANSYS, CFX etc.
Dispersion Modelling and Consequence Analysis in industries
Quantitative Risk Analysis (QRA) in Chemical industries
On-site and Off-site Emergency Management Plans
Process Hazard Analysis (PHA): HAZOP/FMEA etc.
Root Cause Analysis (RCA) Techniques of industrial accidents
Smoke modeling due to fire on petroleum products/bulk installations
Rules and Regulations on Chemical Safety and Emergency (National & International).
Emergency planning while transporting hazardous chemicals on road
Safety Audit and Environment Audit
Weather and Climate Related Disasters
K. Commands on specialized software(forDispersion Modeling, Risk Analysis etc.):
CFD (Computational Fluid Dynamics) Modelling (3D) through ANSYS, CFX, etc.
Phast Risk (DNVTechnica), EFFECTS (TNO), HAZOP-Pro, -Pro, ALOHA, ALOFT Smoke model etc.