About Training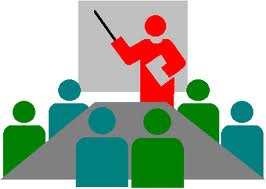 About Training
One of the major objectives of Disaster Management Institute was offering Capacity Building, Education, and Training Services in the area of Disaster Management to various stakeholders. To this end the Institute has been organising a number of training and capacity building interventions so as to empower the stakeholders for effective disaster management both for the Pre-Disaster activities like prevention, mitigation, preparedness and post disaster activities like comprehensive disaster response and rehabilitation.
From its inception the institute has carried out over 2000 training and capacity building programmes for more than 50000 personnel along with two post graduate diploma courses. Two exclusive programmes were conducted for the senior officers of Govt. of Bangladesh on social safety net and disaster management. Other major programmes implemented by the institute, include among others, Incident Command System training for senior All India Service officers, Police training and capacity building programme for Madhya Pradesh Police, Capacity Building programme for Home Guard and SDERF of Madhya Pradesh, Community Empowerment programme for the local community leaders of Madhya Pradesh, School Safety and capacity building programme for the educational community of Madhya Pradesh, Central Sectoral Scheme for Capacity building of officers supported by Agriculture and Home ministries-Government of India, Capacity Building programmes for Gas Authority of India Ltd (GAIL), Capacity Building programmes for the Central Pollution control boards, National Disaster Response Force, Judicial officers, officer of various department of Government of Madhya Pradesh, NGOs etc.
Keeping with its mandate, DMI continues to conduct training and capacity building programmes on both Natural and Man Made disaster management and it has  well qualified professionals as well as suitable infrastructure facilities for both in house and off-site training programmes.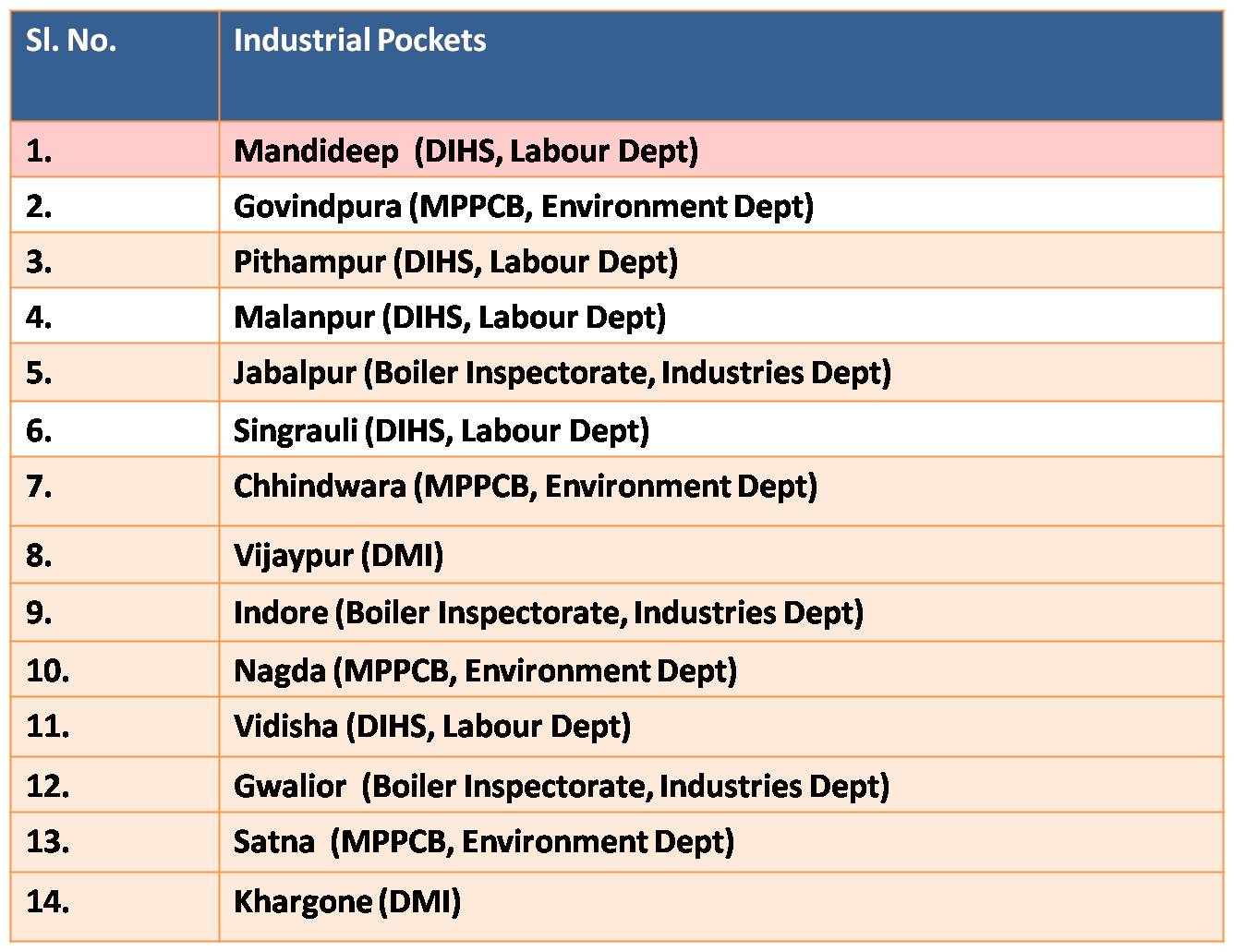 Specialized/Thematic Training Programme 2019-20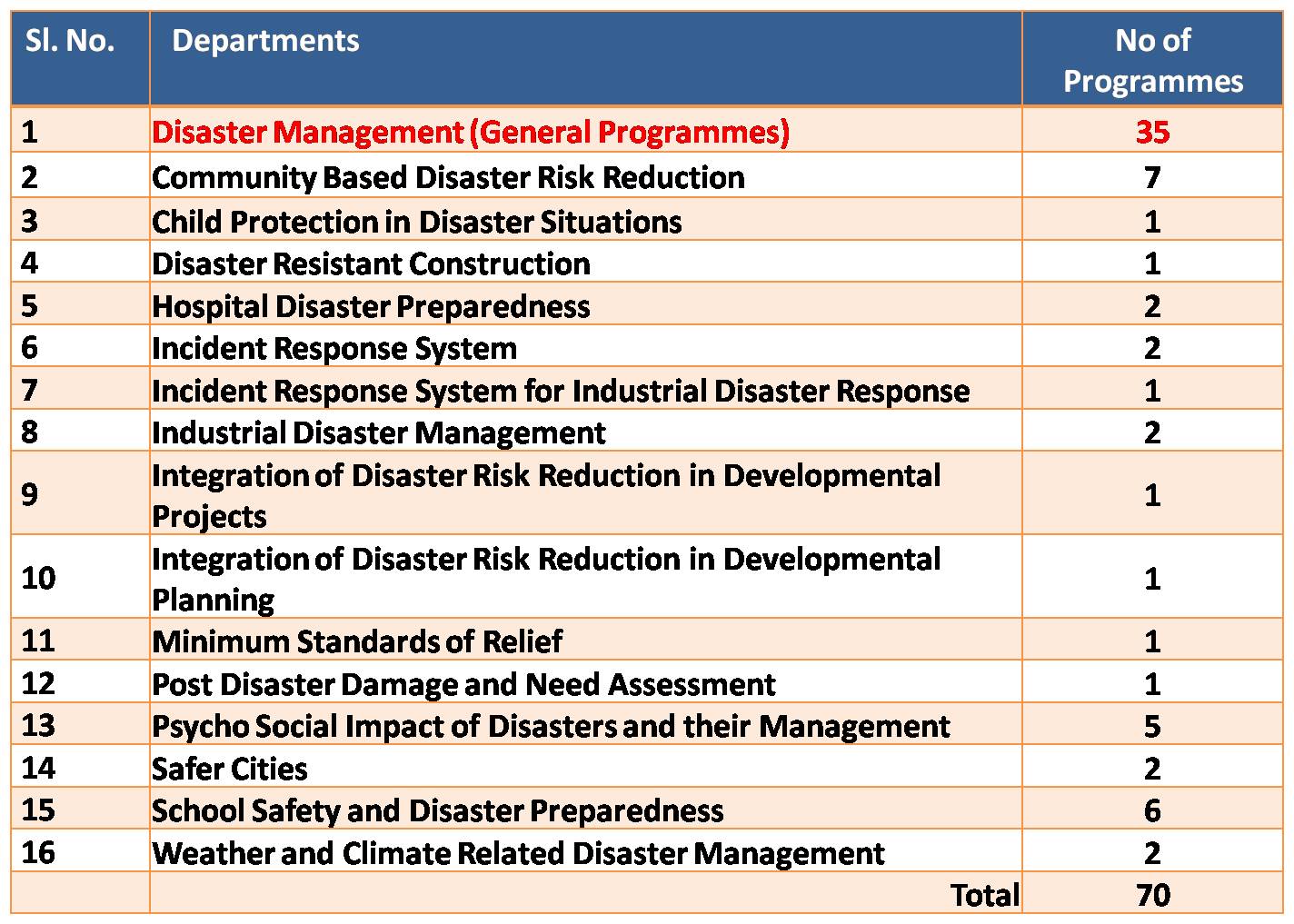 Industrial Pockets Trainings for 2019-20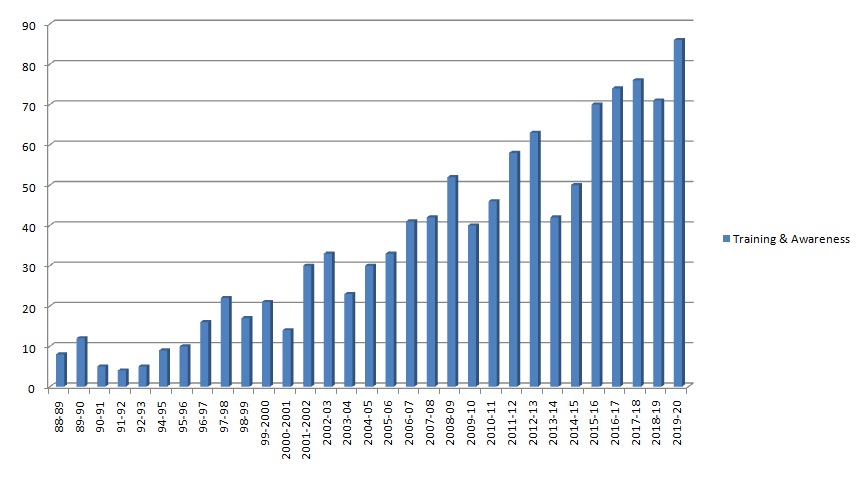 Training & Awareness Programmes
Specialized Training
CBDRM- Under UNICEF project, Disaster Management plan of 10 district and 250 villages are developed.
Home Guards- For Capacity Enhancement of Home guards, DMI developed "Master Trainers" also contributed in Disaster Management Plan for "Simhastha Ujjain 2016".
The Corporates (GAIL, NTPC, IOCL, BPCL, HPCL, RIL, NALCO, MCFL, NHDC, Coca Cola, PEPSI etc.)
Central Ministries (MoEFCC, MHA etc.)
Regulatory Bodies (CPCB, State PCBs)
Regulatory Bodies (Directorates of Industrial Safety & Health, Govt of Maharashtra, Govt. of Karnataka, Govt. of Odisha, etc.)
Industries (271 industries in Maharashtra, Grasim Industries Ltd., Siel Chemical Complex, Tata Steel, JSW, Vedanta Inc., HEG Ltd., Mahindra & Mahindra, Alkyl amines etc.)
Others: NDMA, UNDP, UNICEF, RBI, NABARD
Target Groups: Engineers/Safety Managers/Scientists across the country
School Safety
Hospital Safety